ENCOURAGE SOLAR POWER DEVELOPMENT




The use of solar power has come to life, bringing efficiency and savings to the people of Ho Chi Minh City.
According to statistics, Ho Chi Minh City has great potential for solar power development because it is located in areas with strong solar radiation, ranging from 4.3 KWh / m2 / day to 6.6 KWh / m2 / day; average solar radiation is quite high (reaching 1,581 KWh / m2 / year), equivalent to 4.3 KWh / m2 / day.
The potential is being awakened
Solar electricity is being encouraged to invest in development in the area. Ho Chi Minh City Power Corporation is the pioneer in installing solar power systems, has installed 4 grid-connected solar power projects in 4 locations including the headquarters of the corporation. Information Center for Safety Propagation - Energy saving, operator of Ben Thanh 110 KV station and office building of Thu Thiem Power Company with a total installed capacity of 226 KWp. This year, the corporation deployed to install grid-connected solar power system on the roof of the remaining 15/16 electricity company headquarters with the total estimated installed capacity of about 800 KWp. The Corporation also plans to install grid-connected solar power systems at the working facilities of its subsidiaries and 220/110 KV power stations in the near future.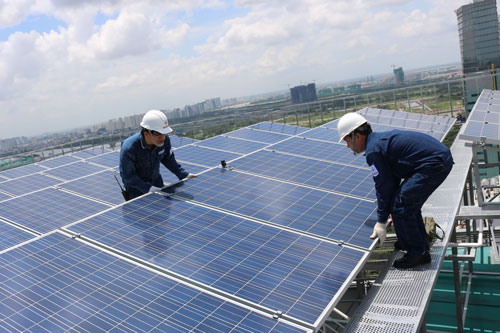 Install solar battery at Green Power building
According to Mr. Pham Quoc Bao, Deputy General Director of Ho Chi Minh City Electricity Corporation, the installation of solar power system is to partially meet the daily electricity demand of buildings, contributing to reducing energy consumption. , save the operating cost of the building, follow the general guideline on cost saving of the corporation.
Before these projects, since 2011, the Corporation has invested in solar battery systems to supply electricity to 172 households in Thieng Lieng Island hamlet, Thanh An island commune, Can Gio district with the monthly electricity output of about 11,500 KWh.
Encourage the development of clean energy sources
If previously people, businesses and investors were still hesitant to invest in solar power, from 2013 to now, the installed capacity of solar power in the city has increased rapidly, in 2013, only 200 KWp, by 2015 up to nearly 1 MWp and by July 2017, the installed solar power capacity in the area is estimated at 3 MWp. It is expected that the number of investors installing grid-connected solar power systems will increase in the coming time because the Prime Minister issued Decision No. 11/2017 / QD-TTg April 11, 2017 (already (June 1, 2017) on the incentive mechanism for the development of solar power projects in Vietnam.
In order to further improve solar power installation capacity, TP Power Company recommends TP continue to strongly deploy programs to propagate and mobilize customers to use electricity economically and efficiently, focusing on to the increased use of solar water heaters and the installation of grid-connected solar power systems. In addition, the city is proposed to consider directing and mobilizing export processing zones, industrial parks, hi-tech parks, administrative and non-business agencies, state budget-funded units, schools, hospitals, etc. It is necessary to proactively develop a plan to equip and install grid-connected solar power systems in the buildings of the unit. At the same time, there is a mechanism to support people and businesses when installing grid-connected solar power ...

Promote electricity saving
In parallel with encouraging investment and use of solar power, Ho Chi Minh City Electricity Corporation continues to implement specific action programs to mobilize customers to use electricity safely and economically. In the first 8 months of 2017, electricity saving output of households and businesses reached 269.91 million KWh, accounting for 1.8% of total electricity consumption of the whole city.